Our People
Amanda Giannelli
Technical Lead, Career Sites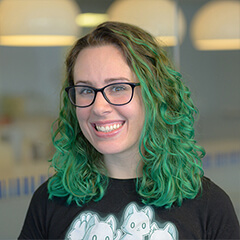 When did you start working for Radancy?
March 2013
What is your current role and responsibilities?
Technical Lead, Career Sites.
What does your department do?
Product Engineering is responsible for developing on the various parts of our platform offering. My team is responsible for Career Sites as well as the Self-Service offering, which allows our clients to build and publish their own content to their career site.
What other roles have you had while at Radancy?
I started as a Software Engineer and moved up to Senior Software Engineer and then Tech Lead. I have always worked on Career Sites.
What do you think is the best part about working at Radancy?
While we have interesting problems to solve and we're always looking to use the latest and greatest technologies, the best part is being able to interact and collaborate with such great people!
What's one interesting fact about yourself that your coworkers don't know?
I met Christian Bale and Morgan Freeman in 2007 on the set of the Dark Knight. They were amazing humans.
Solutions you can count on. Perspective you need. And a commitment to results you deserve.
Connect with Us