Our People
Dinah Ribarsky
VP of Digital Strategy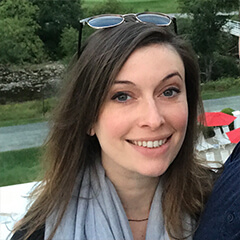 When did you start working for Radancy?
March 2016
What is your current role and responsibilities?
Currently, I am VP of Digital Strategy, primarily working with our sales team.
What does your department do?
The Sales DS role is a unique one, since we skirt between two worlds. The Digital Strategy department is responsible for supporting client initiatives typically using our tools and resources to build robust digital solutions. From a sales perspective, this often manifests itself into an experiential build from the ground up, which I love.
What other roles have you had while at Radancy?
Account Service and Organic DS supporting the Waltham office account teams.
What do you think is the best part about working at Radancy?
The latitude to chart your own way, and have your voice heard. The people aren't too shabby either.
What's one interesting fact about yourself that your coworkers don't know?
My co-workers unfortunately know far too much about me already (sorry guys), but when I was a kid, I was in a PBS special called "Crunchy Critter Returns." Bonus points to whoever can find the footage.
Solutions you can count on. Perspective you need. And a commitment to results you deserve.
Connect with Us