Our People
Kim Narby
Agile Project Manager/Scrum Master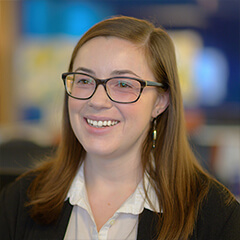 When did you start working for Radancy?
August 2019
What is your current role and responsibilities?
Agile Project Manager/Scrum Master. I work with our product teams to help streamline their work. I lead meetings, coach the teams in agile practices, and attempt to make software creation as productive as possible.
What does your department do?
The Technology Department builds and maintains Radancy's software options - TalentBrew Career Site platform and the additional add-ons for recruiters.
What other roles have you had while at Radancy?
This is my first role with Radancy.
What do you think is the best part about working at Radancy?
There is so much support for moving around within the company and taking your career in a different direction.
What's one interesting fact about yourself that your coworkers don't know?
I love photography! I shoot both film and digital.
Solutions you can count on. Perspective you need. And a commitment to results you deserve.
Connect with Us